mastok kenari computer

solusi problem computer windows & SEO
right or wrong is my country
Windows 7 Codecs
Windows 7 Codecs 3.1.7
Technical.
Title : Windows 7 Codecs 3.1.7
Filename : Win7codecs_v317.exe
File size : 26.53MB

Requirements : Windows7 32/64
Languages : en-US
License : Freeware
Date added : October 25, 2011
Author : Shark007
Download :- copy/paste link dibawah ini ke address-bar browser anda -
http://www.filehippo.com/download_windows_7_codecs/
Discription.
Merupakan paket semua codecs yang diperlukan untuk memainkan file AVI, DVD dll. pada platform Windows7. Tanpa media player dan tidak terasosiasi tipe file apapun.
Dengan paket-codecs ini terinstal dalam Windows7, kita bisa menggunakan segala media player media. Keterbatasannya hanya tergantung pada kemampuan player dalam memainkan semua file movie dan video clips.
B

isa menonaktifkan bagian tertentu tanpa menghapus keseluruhan paket ini.
Mendukung streaming video dalam berbagai format pada web broowser yang populer.
Bisa menghapus bagian tertentu, tanpa harus menghapus keseluruhan konten.
Bisa me re-Add item yang sudah diremove sebelumnya.
Note :
Jika Anda membutuhkan player yang sudah built-in codecs (tanpa memerlukan codecs-external) bisa dipertimbangkan software All Player-v4 (freeware), sehingga proses streaming lebih cepat. Software ini bisa meng-update codecs-nya sendiri.
---
CucuBuyut Jodina Elsya Gratia
---
---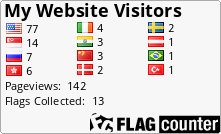 ---
---
Information
All company names, brand names, trademarks and logos are the property of their respective owners. We're using it only for identification purposes. Also any of images, photos, pictures, graphics are just for decoration only. However, if you have any objections, just contact me, and I will completely remove from this site immediately. Mastokkenari.page4.me are NOT affiliated with the products and/or names mentioned in this site. This site consists of a compilation of public information available on the internet. Thank you. - the admin.
---
---